McIlvanney Prize finalists
We're excited to reveal the four finalists of the McIlvanney Prize 2016.
Black Widow – Chris Brookmyre
The Jump – Doug Johnstone
Val McDermid – Splinter the Silence
E. S. Thomson – Beloved Poison
Judges Lee Randall, Stewart Bain & Magnus Linklater said of the finalists:
Black Widow by Chris Brookmyre – this novel is like watching Olympic diving – just when you think the plot can't twist again, it takes a new turn.  Even the twists have twists.  With a theme of cyber-abuse, this shows an author taking a long running series to new heights.
Splinter the Silence by Val McDermid – set in a totally believable world of internet trolling, this novel features established characters but moves their relationship into a new place, suffused with longing.  Easily accessible, even to those readers who have not been introduced to earlier books in the series.
The Jump by Doug Johnstone – a taut psychological thriller with a powerful and absorbing narrative which makes this work a compelling read. The reader is drawn into a family drama, suicide, murder — and a plot whose outcome remains nail-bitingly unresolved until the final pages.

Beloved Poison by E. S. Thomson – an ambitious and original novel, full of vivid historical detail about Victorian medicine, and a richly gothic atmosphere, with a large cast of wonderfully named characters, including the strong lead character.
---
The winner of the Scottish Crime Book of the Year will be awarded The McIlvanney Prize in memory of William McIlvanney at the opening ceremony of Bloody Scotland. His brother, Hugh McIlvanney OBE, will present the award on Friday 9th September to the winner and all four finalists will be presented with a full set of Laidlaw novels.
For full info on the longlist go here.
There is also more information available in the press release.
Chris Brookmyre believes he has sussed the five Scots whose dark secrets will shape the future crime bestsellers.
---
Lorraine Kelly
Nobody is telling me that woman doesn't have a head in her fridge and a blood- spattered altar where she makes horrific sacrifices to a grotesque effigy of Paul Sturrock.
Nicola Sturgeon
Only bloodlines riven with true evil emerge from Dreghorn. She pursued a path to high office to ensure she  had the power to suppress the truth about Ayrshire's hellmouth.
Ian Rankin
All that vinyl he buys is actually for melting down and coating his victims, House of Wax style.
Val McDermid
Workmen have to sign an NDA before they're allowed into her basement. It's a redundant measure as none of them ever recovers the power of speech.
Judith Ralston
The Scottish weather is HER FAULT. She has the power to control it but prefers to watch us suffer.
---
Chris will be at Bloody Scotland 2016 at the following events:
Mark Billingham and Chris Brookmyre, Friday 9th September, 8:30pm
Crime Writers Football Match: Scotland v England, Saturday 10th September, 2pm
Chris Brookmyre and Stuart Neville, Saturday 10th September, 5:30pm

The Booktrail takes over the Bloody Scotland blog for a series of posts exploring where setting shapes a number of novels from authors attending Bloody Scotland this year.
---
Bloody Scotland is one of the crime writing, literary festivals of the year and this year, more than ever, The Booktrail is investigating some of the best crime fiction celebrated at the three day event.
The Booktrail is all about books set in various cities and countries across the world but there's nothing like some gritty crime fiction set in Scotland. For every book on the site, there's a travel guide and map so you see the country through the eyes of the author as well as their characters. It's a Bloody (Scotland) good way to travel! (Visit Scotland via fiction: http://www.thebooktrail.com/book-trails/?pg=1&location=Scotland)
This year, we're collaborating with Bloody Scotland and I will be reporting on events, Scottish fiction and the wealth of crime fiction that's on display up in Stirling. I even got to sit on the rather nice and cosy Judges Sofa as the crime book of the year, now the McIlvanney Prize longlist was drawn up. The winner will be announced on 9th September. Hush, but my favourite is on there so fingers and tartan covered trouser legs will be crossed. Sworn to secrecy about who I voted for though!
Tartan Noir: Crime fiction set here even has its own name – Tartan Noir. It's a stamp, an identity for the type of crime writing that uses the rough and rugged Scottish landscape as a character in itself.
To use a Craig Robertson turn of phrase, there is a lot that is 'Gallus' about this Tartan Land. I have found more out about Scotland via fiction than anything else, despite having holidayed from John O'Groats via the Scottish islands and down to the Scottish borders over the years. And I've grown to love my adopted country even more because of it.
From Aberdeen to Edinburgh: No need to visit the Tourist Centre if it's the literary Scotland you want to see. Aberdeen is known as the Granite City, famous for its stone as well as its oil, but just wait until Stuart McBride shows you the sights and crime underbelly of the docks!
If it's Glasgow you fancy visiting, then I can assure you that if you allow Douglas Skelton to guide you around, there's a experience you'll never forget. He writes of the Glasgow underbelly where gangsters and gritty Scottish banter will not only show you the city but introduce you to the ahem 'unique' Scottish vernacular.
From the modern day, Scotland has always had that allure of times gone by and its supernatural, folklore element. Of course this has been incorporated into its crime fiction in more ways than one. Edinburgh's ghostly gothic tones are as much a character in James Oswald and Oscar de Muriel novels than anywhere else. And just wait until you head up to Orkney. There's something endlessly ethereal about these islands and this more than comes across via fiction set there.
Oh, but let's not forget deadly Dundee under the hand of Russel D McLean or the often theatrical Galloway of Catriona McPherson. Scotland is such a diverse country, small but perfectly formed and some of the most stunning landscape in the world. And the home to some of the most memorable characters in crime fiction.
I'll be writing about these and more in future posts. How writers showcase their part of Scotland on the map and how Scottish greats have come to the fore with their writing no matter where they write about – Val McDermid has even invented her own city of Bradfield in England. The Scottish/English divide no more.
But let's not forget the lovely Stirling itself – home to the very festival of crime writing greatness. A city where for three days, the finest of the fine will be gathering to talk crime, murder and more. Scotland has never looked so bloody.
Scotland be brave…
Susan, TheBooktrail.com
---
Visit the booktrail for maps, travel guides and reviews for the books featuring in Bloody Scotland.
Twitter: https://twitter.com/thebooktrailer
Facebook: https://www.facebook.com/thebooktrail
Because it's Bloody Scotland's fifth year we asked McIlvanney Prize 2016 longlister Val McDermid to reveal the top 5 songs that accompany her while she writes her books.
Private Investigations – Dire Straits
Moody and dark, with a great guitar break from Mark Knopfler. I used to listen to this a lot when I was writing the Kate Brannigan private eye novels.
Von – Sigur Ros
I often listen to Sigur Ros when I'm writing. Because their lyrics aren't in English, they don't distract me and I love the way they blend the ethereal vocal with the very strong musical lines.
Struggle for Pleasure – Wim Mertens
I love Wim Mertens music. I find it good for concentration and also quite uplifting, which is always a good antidote to some of the dark places the work takes me. And his voice is quite extraordinary, which is also a good way to get into heads that are far from ordinary.
Dies Irae from the Requiem – WA Mozart
There comes a point close to the end of a book where I need a kick of energy to drive me forward and this is a track that does precisely that. It's a great surge of sound that impels me into action, profoundly serious and quite terrifying too.
Lily, Rosemary and the Jack of Hearts – Bob Dylan
This is one of those great story songs. It bounces along with an energy and brio that belies the darkness of the tale it tells. It's always good to be reminded of how to write tantalising mystery into a narrative. And it has one of my all-time favourite lines — 'The only person on the scene missing was the Jack of Hearts.'
Splinter the Silence by Val McDermid is published by Sphere, £7.99.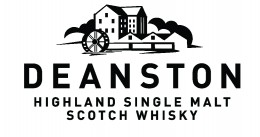 A stellar shortlist has been announced for the Deanston Scottish Crime Book of the Year.
Some of the biggest names in Scottish crime writing have been joined by a rising star of the genre to compete for the prestigious prize. The winner will be announced at a gala dinner during the festival on Saturday 14th September, and presented with a trophy and a cheque for £1000.
The 2013 shortlisted titles are:
Ann Cleeves – Dead Water
Gordon Ferris – Pilgrim Soul
Malcolm MacKay – How a Gunman Says Goodbye
Denise Mina – The Red Road
Val McDermid – The Vanishing Point
Ian Rankin – Standing in Another Man's Grave
This exceptional list demonstrates the wealth and diversity of contemporary Scottish crime writing, featuring writers at the top of the game not just in Scotland but across the globe. However, new talent is equally vital and the list celebrates this with emerging writer, Malcolm MacKay.
Key themes of this year's shortlisted books include the author's use of the past. Titles such as Denise Mina's, The Red Road and Ian Rankin's, Standing in Another Man's Grave explore how past events have a resonance to the present day.
There is also a great diversity of locations within the final six. Whilst cities are the heartland of much crime writing, Ann Cleeves' Dead Water is set in the Shetland isles, Gordon Ferris' Pilgrim Soul travels from Glasgow to Germany, and much of The Vanishing Point by Val McDermid is set in the United States.
The award provides Scottish crime writing with recognition and aims to raise the profile and prestige of the genre as a whole. Scottish roots are a must for competition applications: authors must either be born in Scotland, live there or set their books there. Crime fiction, non-fiction and anthologies of short crime stories are all eligible. Charles Cumming claimed the award in 2012 with A Foreign Country.
Entries were whittled down with the expert help of staff from Waterstones, then handed over to our judging panel: former Scotsman editor Magnus Linklater, Shari Low of the Daily Record and Baillie Liz Cameron of Glasgow City Council.
Deanston Distillery's support of Bloody Scotland fits well with its history and bloody past, including connections to the infamous murderers Burke and Hare. Originally established as a cotton mill in the 18th century, Deanston was transformed into a whisky distillery in 1966 and now produces award-winning hand-made Highland single malt.
Visit our award page at www.bloodyscotland.com/deanston for more information on the shortlisted titles.
Dine with the with the award winner
Join us from 7:30pm in the Golden Lion Hotel in Stirling as we announce the winner of the Deanston Scottish Crime Book of the Year award 2013.
The winner of this year's award will be announced shortly before a fantastic three-course meal where you can eat, drink and be merry while meeting a selection of your favourite crime writers who will be hosting each table and mingling with guests.
Tickets are now on sale priced at £39.50 per person, with the ticket price including a three-course meal.
Click here for further details and to book.
We've been very busy here at Bloody Scotland putting together a 'killer' programme for 2013.
The big weekend will feature debates and discussions from the very best of Scottish and International crime writers and will take place in the city of Stirling from Friday 13 to Sunday 15 September.
If you were lucky enough to be at our inaugural Festival you would have enjoyed an event from one of the fifty top-selling authors who appeared at Bloody Scotland 2012, including appearances from Ian Rankin, Val McDermid, Christopher Brookmyre and William McIlvanney.
To quote Festival organiser Dom Hastings: "Bloody Scotland really made its mark in the literary calendar last year with thousands of crime writing fans attending over the course of the weekend. To have such a positive reaction in its first year is really indicative of Scotland's love of this popular genre – and indeed how well respected our country's crime writers are."
If you didn't make it to Bloody Scotland last year then don't fret…because this year's Festival is going to be even bigger and better!  Featuring even more best-selling authors, new talent, bespoke workshops and seminars, there will be something to grab the attention of every crime-fiction fan.
We are delighted to reveal that the full Festival programme will be released on Wednesday 5 June with tickets for the events going on sale the very same day.
Keep your eyes on the website and sign up to our mailing list to stay in-the-loop with all the Bloody Scotland latest!
You can also follow us on Twitter and like us on Facebook
Let the Countdown Begin!
They can write. But can they act?
As a treat for the grand finale of Bloody Scotland we were served a one-off staging of The Red-Headed League, starring Sherlock Holmes himself as the clever detective. (It was really 'only' Stuart MacBride, not the genuine Mr Holmes.) Karen Campbell was the red-head and Gordon Brown (the other Gordon Brown) was disparaging towards the other red-head hopefuls in the audience.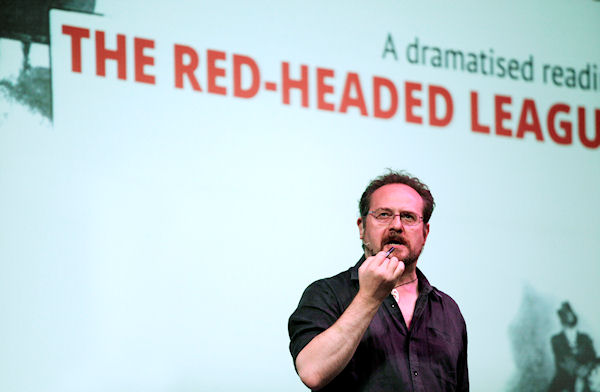 Lin Anderson was Mrs Hudson, Craig Robertson played Lestrade and Val McDermid was Mr Merryweather. Gillian Philip was the villain of the piece. She villained most convincingly.
Dr Watson had the biggest role and David Ashton Doctor Watsoned so well I wasn't surprised to find he's an actor.
Why is it that watching the 'wrong' people do something, we like it even better?
Once the red-headed jollities had been dealt with, it was awards time.
First out was the Worth the Wait short story competition. Out of 232 entries and 19 shortlisted stories, the winner was Sarah Reynolds who got some very old and rather valuable Glengoyne whisky for her troubles, amongst other prizes. Very good story. In fact, most of them were unexpectedly excellent.
The very first Scottish Crime Book of the Year 2012 came next, and last. Jenny Brown introduced Sheena McDonald who introduced William McIlvanney who told us that Charles Cumming was the winner with A Foreign Country. A large cheque changed hands and Charles made a suitably gracious speech.
And then we all went home.
Drop the incomprehensible jokes, and the cultural references that you don't know what they mean, and a translation is still a translation and can win awards. That's what Val McDermid found with her French translator, and it's a fair bet that's not a one-off.
Translations were just one thing up for discussion when Barry Forshaw talked to Val and to Yrsa Sigurðardóttir and editor Jade Chandler first thing on Sunday morning. During the warm-up beforehand they mentioned kippers for breakfast and missing the Archers, but for the real event it was almost all Nordic crime, with Barry showing off his long-rehearsed pronunciation of those impossible names. He did well with Yrsa, but still got her to say Sigurðardóttir so we could all tell that he still has some way to go.
Scotland has a communality with the Nordic countries, sharing similar values. That's why the two areas feel they belong together.
All participants in The Next Big Thing were of the opinion that one reason Nordic crime has done so well is that so far we've only had the cream of the crop. Now there is a trickle of more mediocre crime novels coming through, proving that just as with some US novels, not everything travels successfully.
The UK has become more European, and the US feels much more foreign than we expect it to be. Val gets mobbed in Germany, but there isn't much German crime coming here. The general piece of advice they have for publishers looking to translate foreign crime novels is to begin with an author's first, and not start mid-series as has been known to happen.
Barry kept promising to tell us who he thinks will be the next big thing, and I don't know if it's a pronunciation issue, but it sounded like it's Higashoo. Which is nice, if somewhat incomprehensible. But that's coming from the man who discovered Bloody Stirling only this weekend…
If you are a Russian crime writer you don't want president Putin to like your books. On the other hand, you don't want him not to like them, either.
It's tricky, this book stuff. Maybe the next big thing will be the Manx Murder. Channel Isles Crime. Or simply something set on one of the many  Scottish islands that seem so little known.
Post by Ann Giles
It could have been chair Peter Guttridge who Karin Fossum had in mind, but it was actually one of her characters. Peter looked pretty dizzy, however, and said repeatedly during the Deadlier Than The Male event that Karin was freaking him out. She is scary, in a nicely Nordic way. Doesn't beat about the bush like the British do.
Karin and Val McDermid were talking to Peter about women in crime. Problems in writing are there to be solved, and  if it takes her a year, Karin will eventually see that something needs to be removed. Asked if she feels the urge to improve on old books Val said you have to stand for your early writing. Some of it will be good, some of it bad.
The sign for Karin to stop is when what she has taken out goes back in again. As well as crime, Karin writes poetry and what all her writing has in common is death. Her reply to whether she knows what she is writing after her next novel was 'yes, I do.' This short and succinct piece of information was met by laughter by the audience, but that's what we are like, over there.
Another tradition is when Norwegians go to their little cottages for Easter, they take crime novels (paperbacks only) to read. Presumably to avoid killing each other during cramped conditions. Crime gets more exciting in the dark.
Val avoids writing two books in a row about the same characters, or she will get bored. But when she moved one character to America to get rid of them, new ideas immediately sprang up and she wanted to move her back here again, except as her agent pointed out, there was a problem with the dog. The dog has now been adopted by another crime writer, so it can stay in the US.
Both Karin and Val have fans who know best. One of Val's was eager to make her aware that between the hardback and the paperback, she might want to correct that right turn by the lights where you can no longer make right turns…
Northanger Abbey in modern clothes is next on Val's agenda, and she's not averse to another children's book as long as there are no more children's events. Anything but that!
Post by Ann Giles