Michael Connelly & Denise Mina
Tartan Noir meets American mystery as Michael Connelly and Denise Mina take to the stage in this one-in-a lifetime event!
DATE: SUNDAY 24TH NOVEMBER
TIME:7PM (DOORS 6:30PM)
LOCATION: GEORGE SQUARE LECTURE, THEATRE, GEORGE, EDINBURGH
A former police reporter for the LOS ANGELES TIMES, Michael Connelly is the author of the Hieronymous "Harry" Bosch thriller series as well as several stand-alone bestsellers, including the highly acclaimed legal thriller, The Lincoln Laywer, introducing legal defense attorney Mickey Haller. Michael Connelly has been President of the Mystery Writers of America. His books have been translated into 31 languages and have won awards all over the world, including the Edgar and the RBA International Prize for Crime Writing. His latest book, The Gods of Guilt, reunites Harry Bosch and Mickey Haller as a gruesome murder brings up a past better be forgotten.
Denise Mina was born in Glasgow in 1966. Because of her father's job as an engineer, her family moved twenty-one times in eighteen years from Paris to the Hague, London, Scotland and Bergen. After leaving school at sixteen and a run of poorly paid jobs, she went on to study Law at Glasgow University and researched a PhD thesis at Strathclyde. Misssing her grant, she stayed at home and wrote her first novel, Garnethill, which was published in 1998 and won the Crime Writers' Association John Creasy Dagger for best first crime novel. Since 1998 she has written ten further novels, including most recently, The Red Road. Denise also writes short stories, plays and comics, including writing Hellblazer, the John Constantine series for Vertigo, for a year. Since 2012 she has been adapting the Steig Larsson Millennium Trilogy as graphic novels. She is a regular contributor to TV and radio. In 2012 The End of the Wasp Season won the prestigious Theakstons Old Peculier Crime Novel of the Year Award, a feat she repeated in 2013 with its sequel Gods and Beasts.
This event will be chaired by fellow author Peter Guttridge.
This event is ticketed, and tickets are usually priced £8.  SPECIAL OFFER: Quote "Bloody Scotland" and get your ticket for just £5.
Tickets are available from the front desk at Blackwell's Bookshop or by phoning 0131 622 8218
For more information or if you would like a signed copy please contact Ellie Wixon on 0131 622 8222 or email ellie.wixon@blackwell.co.uk
Just when you thought it was safe to go back to the crime writers…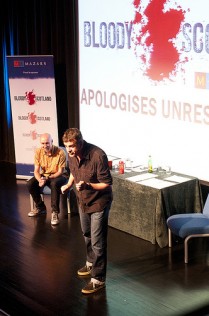 Bloody Scotland 2013 has come and gone, a trail of books and bodies left in its bloody wake. Jo Nesbo has gone back to Norway, Lee Child has flown back to the USA, and Christopher Brookmyre and Mark Billingham are still standing in the corner like a couple of very naughty boys.
But wait! Like all good crime novels, there's a twist. It's back!
Bloody Scotland on Tour will be coming to a town near you this November. Or at least it will if you live near Edinburgh, Dundee, Kirkwall, East Kilbride, Stirling, Glasgow, St Andrews or Lasswade. Yes, Lasswade.
We thought this was an idea so good that it wasn't enough to simply have it in Stirling once a year. We're taking it further and we're taking it on the road.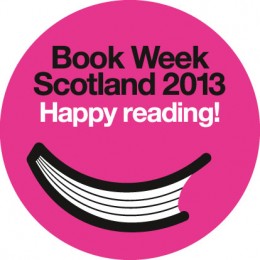 To mark Book Week Scotland, we're assembling the cream of Scottish crime writers, putting them all in a double decker bus and holding literary events for your pleasure. That's all true except the bit about the bus.
So if you want to hear your favourite author talk about their work, and why wouldn't you, check out the venues and dates below. More dates may yet be added so please come back and see who is appearing.
MONDAY NOVEMBER 25
Edinburgh – Waterstones West End, 6pm
128 Princes Street, Edinburgh, EH2 4AD – 0131 226 2666
This event is ticketed, please contact the store for details.
Lin Anderson
Quintin Jardine
Sara Sheridan
Aly Monroe
Dundee – Steps Theatre, 7pm
Central Library, The Wellgate, Dundee DD1 1DB – 01382 431533
This event is free but ticketed, please contact the theatre for details.
Will Jordan.
Chris Longmuir
Gillian Galbraith
Gordon Brown
WEDNESDAY NOVEMBER 27
Orkney – Orkney Library, 6.30pm
44 Junction Road, Kirkwall,  KW15 1AG – 01856 873166
This event is free but ticketed, please contact the library for details.
Craig Robertson
Gordon Brown
Helen Davis
Paul Harrison
Stirling – Central Library, 7pm
Corn Exchange Rd, Stirling FK8 2HX – 01786 432107
This event is ticketed, please contact the library for details.
James Oswald
Al Guthrie
Moderated by Alexandra Sokoloff
THURSDAY NOVEMBER 28
Stirling  – Tolbooth Theatre, 7.30pm
Jail Wynd, Stirling, FK8 1DE – 01786 274000
This event is ticketed, please contact the Tolbooth for details.
Will Jordan
Michael J Malone
Bert Mitchell
Douglas Skelton
(Moderated by Craig Robertson)
Lasswade – Lasswade Library, 7pm
19 Eskdale Drive, Bonnyrigg, EH19 2LA – 0131 271 4534
Free and not ticketed.
Alex Gray
Marianne Wheelaghan
Aline Templeton
FRIDAY NOVEMBER 29
Glasgow  – Waterstones Sauchiehall St, 6pm
153-157 Sauchiehall Street, Glasgow, G2 3EW – 0141 332 9105
Free and not ticketed.
Craig Robertson
Chris Brookmyre
Helen Fitzgerald
Matt Bendoris
SATURDAY NOVEMBER 30
St Andrews  – Town Hall, 2pm
Queen's Gardens, St Andrews, KY16 9TA- 01334 470770
This event is ticketed, please contact the venue for details.
Alex Gray
Lin Anderson
Craig Robertson
Gordon Brown
Frank Muir
Bible John picked up three women at the Barrowland Ballroom dancehall in the east end of Glasgow in the late 1960s and led them to their deaths. He was never apprehended for the murders of Patricia Docker, Jemima McDonald and Helen Puttock, and his identity remains a mystery to this day.
But why, more than four decades later, are we still fascinated by crimes which took place all those years ago and why do we still need to know who was responsible?
This event was chaired by author Alex Gray, who was joined on the panel by criminologist David Wilson, author of The Lost British Serial Killer, and retired police officer Paul Harrison, who wrote Dancing With the Devil.
The answer to the question above, according to Paul Harrison, is that Bible John is Scotland's version of the bogeyman; there is still that underlying concern that the case was never solved. And that was the crux of this debate. Who was he and why was he never caught?
Having already read David Wilson's book, I had a fair idea about his theory. The professor believes Bible John was mobile, that he moved away from the city after the murders took place, and that's why he was never convicted of those particular crimes. And, according to Wilson, he is now, in fact, behind bars after being found guilty of a number of other murders years later.
Wilson revealed how had asked to speak personally to Peter Tobin – the man he says is Bible John – but the request was denied. However, he says serial killers are unreliable anyway, adding: "I don't find them very useful. They construct a narrative."
As someone with an interest in the subject, I also have Harrison's book but didn't have a chance to read it before this event so I was interested to hear his own take on the matter. And it was certainly an explosive theory – that Bible John was actually a police officer or someone connected with the police at that time. Harrison says he also thinks the man who terrorised the city is still alive.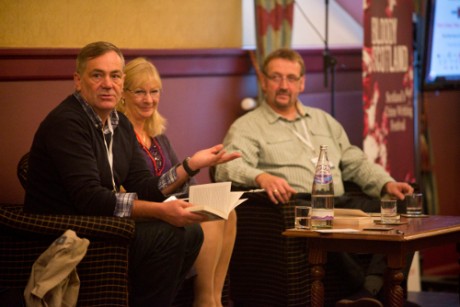 A member of the audience claimed to know someone who knows who Bible John is, while another wanted to know why he was given the infamous nickname by the Scottish Press at the time. The second question was interesting because it showed that the event attracted people with very little previous knowledge of the case and, yet, they were still intrigued enough to come along.
The answer, for anyone else who doesn't know by the way, is that the killer had introduced himself as John and, during a taxi ride with the third victim and her sister, he had quoted from the Bible.
When asked if Bible John would have been apprehended had he been operating in the modern day, the panel agreed that, yes, he probably would have.
But as for the title of this particular event? Well, we may never know the answer.
Post by Lisa Gray
Fans of Scandinavian crime fiction have been spoilt for choice in recent years, with the likes of Henning Mankell, Arne Dahl, Jo Nesbo and Karin Fossum thrilling and terrifying in equal measure.
Which is why any new names on the scene need to offer something a bit different in order to stand out from the ever–growing crowd.
And that's where Mons Kallentoft comes in.
His main character is a brilliant detective who works too much, drinks too much and has relationships problems. So far, so familiar, right?
Think again. Because Mons' troubled hero is actually a heroine – welcome to the world of Detective Inspector Malin Fors.
Those at the event were treated to a reading by Mons of an excerpt from the book Savage Spring. Event chair, and Bloody Scotland co–founder, Alex Gray is a big fan of the dark, poetic prose and it was easy to see (or should that be hear?) why.
As readers, we are given Malin's point of view but the Swedish author is fairly unusual in the respect that he also gives a voice to the victims whose murders she must try to solve. "You should feel the breath of the dead in your ear," he told the audience, as a cold chill no doubt crept down the spines of everyone in the room.
Four of his books are available in English so far – Midwinter Sacrifice, Summertime Death, Autumn Killing and Savage Spring. Clearly a fan of the seasons, and with all the usual ones used up, the next book in the series is, naturally, called The Fifth Season.
As well as the Malin Fors books, the hugely talented Mons is also the author of the novels Pesetas, Marbella Club, Attractive, Healthy and Spontaneous, plus Food Noir, a collection of food essays.
So how did it all begin?
A keen footballer and ice–hockey player, at the age of 14, a sports injury confined him to the house. A lack of anything decent to watch on television saw him turn to books and delve into the darker elements of literature. His debut novel, Pesetas, was first published in Sweden in 2000 and saw him win the Swedish equivalent of the Costa Book award. However, it is the Malin Fors books that have seen Mons establish himself as one of the most exciting Scandinavian crime writers around at the moment.
Once the roving microphone made its way around the room, one audience member wanted to know why, as a man, Mons is so good at writing a female protagonist? He explained: "As a good writer, you should be able to write – whether the characters are male or female. Men and women are not that different. Malin is very much a human being."
As for Malin being a television star of the future, Mons isn't so sure.
"I've turned down a lot of television and film offers," he revealed. "Malin is my baby. I'm still waiting for the perfect moment."
Post by Lisa Gray
International best selling author Lee Child closed the festival with a sell–out show where he revealed a shocking secret to the audience. "I never wanted to be a writer," he confessed. "I still don't want to be a writer! I want to be an entertainer."
In fact, what he really wanted to be while growing up as a youngster in Birmingham was a member of the Beatles. Unfortunately for Lee, he would have been the one who couldn't sing and had absolutely no musical talent…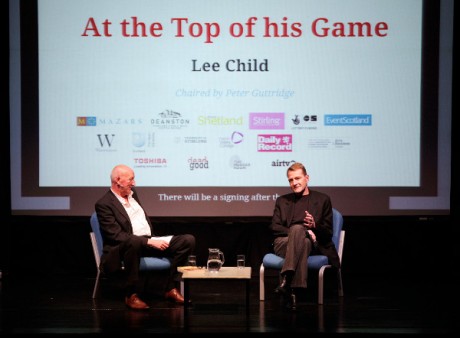 These days he is probably the literary equivalent of the Fab Four. Published in almost 100 countries, he has sold 70 million copies worldwide. Apparently, every two seconds, someone buys a Jack Reacher book.
Lee told the audience that he would read books but never really thought too much about the actual writing involved. It was only after he lost his job as a presentation director at Granada Television in 1995 at the age of 40 that he turned to writing himself – and Reacher was born.
He wrote his first book, Killing Floor, in five months, at which point he had enough money in the bank to make one more mortgage payment. The novel went through several drafts but Lee claims he never changes the opening. If you've never read the opening paragraph of Killing Floor, do it. It's not included as an example in author Alex Gray's writing workshops on how to begin a novel for nothing!
The first print run of the book in the United States was 18,000. "Quite small," according to Lee, who reckoned these days that's the amount of books that are probably shoplifted…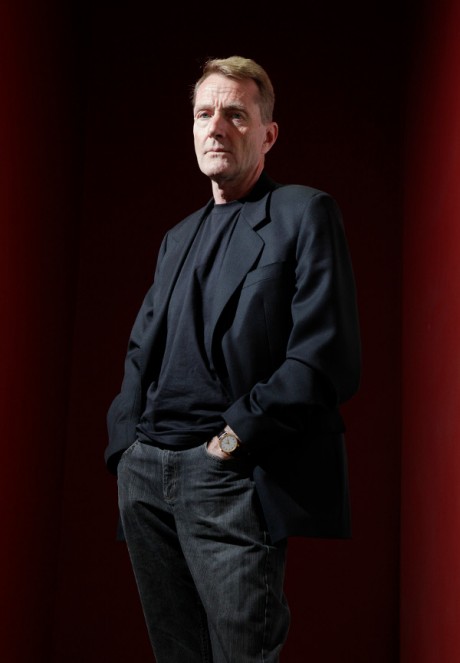 His main character is Jack Reacher, a former Military Police Officer, who is a drifter of no fixed abode and who wanders throughout the United States. The minimalism of Reacher was a practical choice, said Lee of the man who never does laundry and instead buys cheap clothes that he then throws away.
He's also a rather large man is Reacher. Weighing in at 250lbs, our hero is 6'5" tall and has a 50" chest.
Which brings us to the question asked by one brave member of the audience. The one you're not supposed to ask Lee Child. You know, the one about Tom Cruise being, well, a bit small to take on the role in the 2012 movie, Jack Reacher.
Thankfully, Lee took the comment from the floor in his stride. Phew! He reckoned most Hollywood A–listers aren't as tall in real life as they appear to be on screen anyway. "The question is, who could play him? All actors are small." At 6'5" himself, he would say that, I suppose.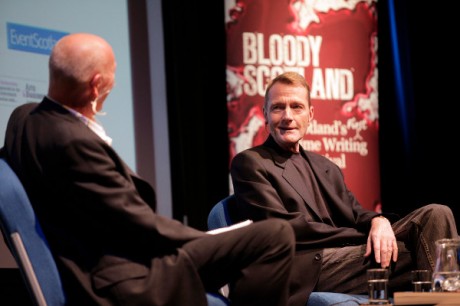 Lee was in Stirling as part of a tour to promote the 18th book in the series, Never Go Back, which sees Reacher ignore his own advice when he returns to his old military unit because he likes the sound of the new commander's voice on the telephone. When he gets there, Major Susan Turner is missing and all hell soon breaks loose.
Lee said the female character was initially set to have a much "sexier" name but ended up being named after the wife of a charity auction winner. The successful bidder then requested that the character which was given his spouse's name be one of Reacher's conquests!
Well, they don't say "men want to be him, women want to be with him" for nothing.
Post by Lisa Gray
William McIlvanney is to receive the Fletcher of Saltoun Award for 2013.
We were delighted to make the announcement of the award at his event at Bloody Scotland Festival on Sunday 15th September: the award, from the Saltire Society, is to honour the work and achievements of writer William McIlvanney – the godfather of Tartan Noir.
This prestigious award is given in recognition of an outstanding contribution to Scotland's life and culture.
The Saltire Society council was unanimous in their support for the award noting McIlvanney's particular contribution to Scottish literature, inspiring and influencing new generations of Scottish writers, and enthralling and entertaining readers in Scotland and internationally. As a previous winner of the Saltire Book of the Year Award for his novel The Kiln, their recognition of his achievements is longstanding.
On being told of the award Mr McIlvaney said;
'I am overwhelmed by the news. Andrew Fletcher is one of the many Scots in history for whom my admiration is great and any award bearing his name is one I will be proud to be given.'
The award will be made on Thursday 26th September at 5.00pm in the Mitchell Library in Glasgow where we will celebrate the occasion with invited guests, members and friends.
Writer, journalist and broadcaster Ruth Wishart will be speaking to William McIlvanney's achievements at the ceremony, where the award will be made by Saltire Society President Magnus Linklater.
Jim Tough, Executive Director of the Saltire said;
'William McIlvaney has been a powerful and influential voice not in Scottish literature but across public life for many years. His work speaks of the people and communities that were all too often absent from our literature. In a year when his early books are being brought to a new audience through re-issue by Canongate Publishers we are delighted to highlight his enormous contribution to Scottish cultural life'.
Congratulations to William McIlvanney!
Everybody knows Jo Nesbø is pretty damn good at writing. You don't sell more than 20 million books worldwide otherwise. But, as we quickly found out early on in this headline event, this is a man of many, many talents.
Long before picking up a pen and notepad and beginning to craft what would become the hugely popular Harry Hole series, he actually had aspirations of being a professional footballer. The star of his local team in Molde, Jo wanted to be Norway's answer to George Best. But his dreams of one day playing for a top English club were shattered by a serious knee injury and he decided instead to become a stockbroker by day and a rock star by night.
As you do.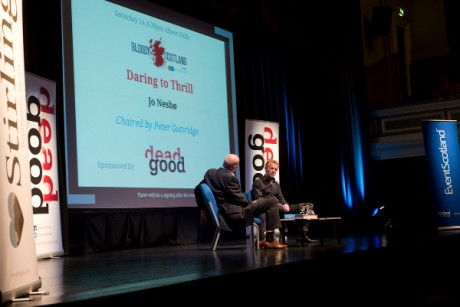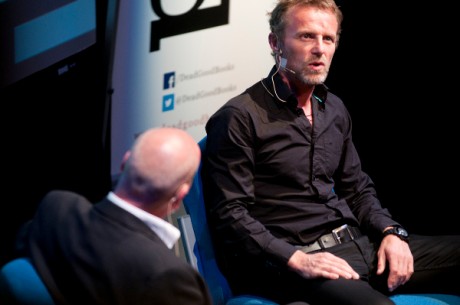 Early on in his music career, he told us, his band played in a club in Oslo for no money. And they had to buy their own drinks. And change the name of the band every week so people would keep coming back. It's safe to say he doesn't have the same problem with his books these days.
Jo said he was always going to write at some point – "I see myself as an entertainer, that's my main agenda." His mum was a librarian, his dad an avid reader. His own reading tastes as a youngster were, shall we say, a bit unusual. He revealed how, as a six–year–old, the first book he asked to be read to him was Lord of the Flies. He liked the skull on the cover, you see. A later influence was the US author Jim Thompson, who wrote The Killer Inside Me. Perhaps this was all a sign of what was to come in his own writing…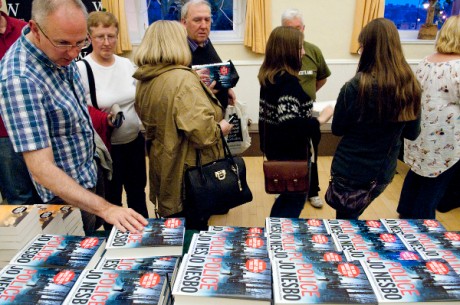 The first Harry Hole book, The Bat, was published in Norway in 1997 but fans in the UK had to wait until late 2012 for the English translation. That meant a double helping of the troubled Oslo detective in the space of a year with the arrival of the tenth book in the series, Police, just a couple of days before the man himself landed in Stirling. This time, the cops are the victims, showing up dead at the scenes of old crimes they investigated and failed to solve. It's clearly a case for serial killer expert Harry – but is he, himself, dead or alive? All we know at the start of the book is there is a patient in a coma, guarded by police in an Oslo hospital, and he's showing signs of waking up…
An audience member wanted to know about the film adaptation of another book, The Snowman, which has been optioned by Martin Scorsese. And, more importantly, who should play the main man? Jo said he only wanted a say in who would direct the movie, not who plays Harry. "It's all about the storytelling." The storytelling in the book clearly had an impact on one fan in the sold–out crowd who confessed: "That Snowman facing towards the house terrified me!"
No doubt with George Best in mind, another member of the audience summed up what we were all thinking when he asked Jo: "Footballer, rock star, international best selling author – where did it all go wrong?"
Indeed.
Post by Lisa Gray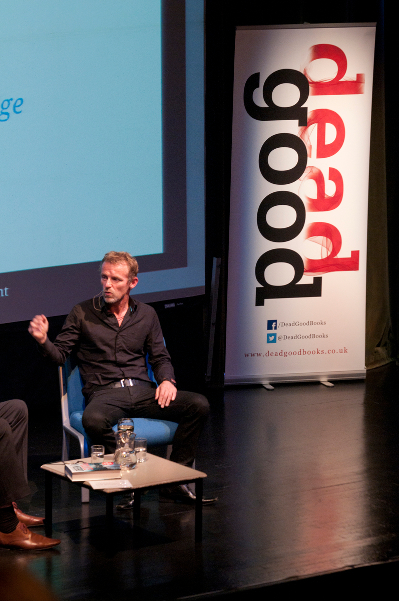 So You Want to be a Crime Novelist?
 Aspiring authors were invited to submit a pitch of 100 words in a bid to win the opportunity to pitch their book in under three minutes to a panel of experts – not to mention in front of a real live audience! More than sixty entries were received but only eight brave wannabes made the cut. The event was sponsored by
The Open University in Scotland
.
The panel:
Mark Stanton (literary agent at Jenny Brown Associates), Alison Hennessey (editor at Harvill Secker), Joseph Knobbs (last year's winner and crime fiction buyer at Waterstones).
Chaired by Jenny Brown – who was armed with trusty stopwatch to keep everything in order.
Here's what happened…
Promise Me by Sarah Reynolds
The pitch: Cath, an accountant, attempts to uncover the truth about what really happened to her relative Katie years earlier. In a bid to solve the mystery, she enlists the help of a rather dubious private investigator. Events span six decades and Cath wonders who she can trust from the past or the present.
The panel: Interesting to see if the author can manage two time periods. Off–beat character. Would be good to see how the setting of Glasgow changes over the course of the story.
The Swans of Lake Leman by Allan Gill
The pitch: Begins in Germany in 1945, with the discovery of a vast cache of Nazi gold. Then, in Switzerland in 1979, the unidentifiable body of an old man is found at Lake Leman. Detective Inspector Laurent Vago investigates what looks like murder.
The panel: Sounds like a great big thriller. Great opening. Lots happening but it's well thought out. Real market for the international sales team. Possibly shorten the title of the book.
Dead Shore by Julie Whitley
The pitch: Set in 1982, a woman's body is found on a beach in Jersey. Surfer cop and single mum Milly Matson investigates while at the same time battling sexism from within the police force. Bergerac this ain't. The first in a series featuring the detective.
The panel: The idea of a small closed location appeals. The author's own background in the police is a plus. Questions over whether the 1980s setting works or not. Great book title but the character's name is a bit cosy.
Murder at the Mela – DCI Patel Investigates by Leela Soma
The pitch: The body of an Asian woman is found in a park in Glasgow and DCI Patel – a teetotaller and vegetarian – is given the case. Earlier, police break up a confrontation between the BNP and Asian gangs. Then, another body is found in the city's West End.
The panel: Sounds like a lot happening so make sure not to overwhelm. Great, fresh character. Big issues going on. The unique selling point is the Asian detective. Great plot but change the title.
The High Rise Overview Effect by Alex Cox
The pitch: Set in a Glasgow high rise which is 30 stories high. A 30–year story arc, with 30 perspectives. In 1980, a boy plunges 30 floors to his death. Recently, a second tragedy has taken place. The truth is revealed in the final chapter when the story reaches the roof.
The panel: More of a literary feel. Ambitious story but the title needs work. Need to be convinced that it all comes together. Difficult to write but would be interesting to read.
It Is Only Just by Siobhan McKinney
The pitch: Set against an Ulster backdrop, Allanagh transforms into alter ego Muriel and becomes a vigilante and then international assassin. The action switches from a suburban street in Northern Ireland to criminal activity in Spain.
The panel: A tiny bit confused by the plot. Lots going on. Not sure what the main focus is. Difficult to emphasis with a killer and know how to relate to the character.
Sharkmitts by Dan Stewart
The pitch: Jenny, a native of the Black Isle, has a condition called face blindness, which means she can't recognise faces. Then she recognises a man at the remembrance service for her sister. She enlists the help of the detective who worked on the case to find out more about the man.
The panel: Like the sound of the main character's struggle. Shades of Before I Go To Sleep. Don't like the title, it needs something more mysterious. Black Isle setting is good.
Black Milk by Cath Bore
The pitch: Laura is poor and works in a chippy. She is being blackmailed into grassing on her local community to the police. When a body is found with the word 'grass' sprayed next to it, she fears she could be next. She faces the choice – kill or be killed. Stand alone book.
The panel: Very confident pitch. The gritty, urban setting is interesting. It feels like a police procedural but with a unique viewpoint. Sounds like a great idea.
And the winners, who both received swanky Toshiba tablets, were:
Alex Cox and Dan Stewart. Congratulations!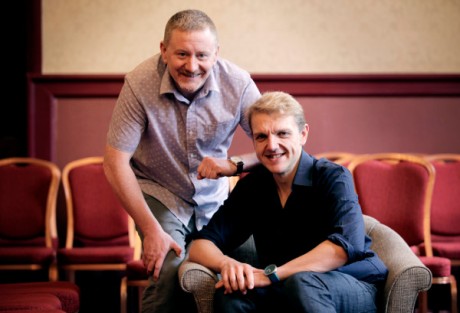 The Deanston Scottish Crime Book of the Year has been awarded to Malcolm Mackay for his novel How a Gunman Says Goodbye.
The author collected the prize, a bespoke crystal decanter of Deanston 12 YO Highland Single Malt Whisky and a cheque for £1,000, at the awards dinner on Saturday 14 September at The Golden Lion Hotel, Stirling.
Malcolm Mackay burst onto the literary scene earlier this year with his highly praised debut The Necessary Death of Lewis Winter.  How a Gunman Says Goodbye, the sequel, was selected for the prize by a panel of top critics including former Times editor Magnus Linklater and Baillie Liz Cameron of Glasgow City Council.  Both thrillers are part of a trilogy which plunges into Glasgow's dark, criminal underworld.
Magnus Linklater, former Times editor and chair of the judging panel, said:  "Malcolm Mackay brings something new to the crime genre with this novel.  This is no straight Glasgow gangland book, but a brave and involving psychological study of the cycle of life."
Malcolm Mackay said, "It's a huge and unexpected honour to win the Deanston Scottish Crime Book of the Year.  At this stage of my career, I still feel like a kid being allowed to sit at the grownup's table when put beside talent like my fellow nominees, so just being nominated was a great thrill for me.
"The quality of the six shortlisted novels highlights the depth and variety of Scottish crime writing, and the Deanston Award and Bloody Scotland Festival show what a vibrant scene it is."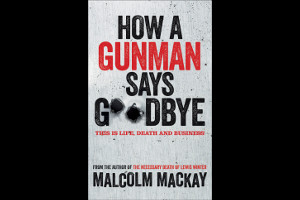 The well sought after literary award provides Scottish Crime Writing with recognition and aims to raise the profile and prestige of the genre as a whole.  Scottish roots were a must for competition applications, all of whom were required to be either a permanent resident, work predominately in Scotland, or of course born in Scotland.
The winning author beat out stiff competition from five other titles shortlisted for the 2013 prize:  Ann Cleeves, Dead Water; Gordon Ferris, Pilgrim Soul; Denise Mina,The Red Road; Val McDermid, The Vanishing Point; and Ian Rankin – Standing in Another Man's Grave.
Deanston Distillery's support of Bloody Scotland fits with the distillery's history and bloody past, including connections to the infamous Burke and Hare.  Originally established as a cotton mill in the 18th century, Deanston transformed into a whisky distillery in 1966 and nowadays produces award-winning hand-made Highland single malt.
Senior Brand Manager, Michelle Lansdowne said, "One of the main reasons we're backing this award is because it represents a new style of tradition and supports home-grown creativity.  It's exciting to see a Scottish newcomer like Malcolm recognised for his extraordinary talent.  Huge congratulations to Malcolm – we wish him every success for the future."
We caught up with Zoë Sharp ahead of her event with Julia Crouch, Thrilling Tales and Psychological Twists which will be taking place on Saturday 14 September.
---
At first, I admit, I thought the chair for my Saturday late afternoon panel, criminologist Professor David
Wilson, was ignoring me. We writers are, by our very nature, insecure quivering wrecks of self-doubt, and his CV is a daunting list of accomplishments.
Right up until a few days before the event I'd still had no contact, no word, no warning, no idea of what was on his mind for the conversation between the esteemed academic and former prison governor, myself, and fellow crime author Julia Crouch.
Julia's CV, I have to say, is also a little daunting. She's been a theatre director, playwright and a graphic designer before taking an OU course in Creative Writing and getting a three-book deal with Headline.
What, I wondered, can I possibly contribute to this discussion? Julia's books have been described as masterpieces of psychological tension and drama. David has spent years studying the nastiest criminals in the country—some of them at very close quarters.
And then the 'psychological' bit of the topic finally dawned on me.
I was to be the lab-rat in some kind of social experiment.
The best crime novels are all about creating conflict, after all. Take a writer who's made her name writing about tough, troubled women in difficult situations—ex-soldier turned bodyguard heroine Charlie Fox in my long-running crime thriller series, and now ex-CSI turned crime-scene cleaner Kelly Jacks in my new standalone, The Blood Whisperer. A writer whose first instinct is, perhaps, to hit first and ask questions later.
Put her together with a writer noted for her twisting take on what initially might seem like everyday situations—a friend coming to stay in Cuckoo, a fractured marriage in Every Vow you Break, childhood questions unanswered in Tarnished. A writer who specialises in tales that start out perfectly normal and then take a dark turn somewhere along the way.
Add in the Professor of Criminology at Birmingham City University (BCU), who is held to be one of the country's leading experts on crime and punishment, as well as being the best-selling author of The History of British Serial Killing, a National Teaching Fellow of England and Wales, a TV presenter on violent crimes and the criminals who commit them, and you have the scene set for … well, almost anything.
So, come expecting bloodshed. Come to guess which one of us will be carrying a concealed weapon. (OK, not much imagination needed there.)
Come wearing something machine washable. Or simply come expecting a lively discussion.
Six-thirty on Saturday. Be there. We'll be waiting.
And—trust me on this—you don't want to make us angry …