The Booktrail comes to Bloody Scotland
The Booktrail takes over the Bloody Scotland blog for a series of posts exploring where setting shapes a number of novels from authors attending Bloody Scotland this year.
---
Bloody Scotland is one of the crime writing, literary festivals of the year and this year, more than ever, The Booktrail is investigating some of the best crime fiction celebrated at the three day event.
The Booktrail is all about books set in various cities and countries across the world but there's nothing like some gritty crime fiction set in Scotland. For every book on the site, there's a travel guide and map so you see the country through the eyes of the author as well as their characters. It's a Bloody (Scotland) good way to travel! (Visit Scotland via fiction: http://www.thebooktrail.com/book-trails/?pg=1&location=Scotland)
This year, we're collaborating with Bloody Scotland and I will be reporting on events, Scottish fiction and the wealth of crime fiction that's on display up in Stirling. I even got to sit on the rather nice and cosy Judges Sofa as the crime book of the year, now the McIlvanney Prize longlist was drawn up. The winner will be announced on 9th September. Hush, but my favourite is on there so fingers and tartan covered trouser legs will be crossed. Sworn to secrecy about who I voted for though!
Tartan Noir: Crime fiction set here even has its own name – Tartan Noir. It's a stamp, an identity for the type of crime writing that uses the rough and rugged Scottish landscape as a character in itself.
To use a Craig Robertson turn of phrase, there is a lot that is 'Gallus' about this Tartan Land. I have found more out about Scotland via fiction than anything else, despite having holidayed from John O'Groats via the Scottish islands and down to the Scottish borders over the years. And I've grown to love my adopted country even more because of it.
From Aberdeen to Edinburgh: No need to visit the Tourist Centre if it's the literary Scotland you want to see. Aberdeen is known as the Granite City, famous for its stone as well as its oil, but just wait until Stuart McBride shows you the sights and crime underbelly of the docks!
If it's Glasgow you fancy visiting, then I can assure you that if you allow Douglas Skelton to guide you around, there's a experience you'll never forget. He writes of the Glasgow underbelly where gangsters and gritty Scottish banter will not only show you the city but introduce you to the ahem 'unique' Scottish vernacular.
From the modern day, Scotland has always had that allure of times gone by and its supernatural, folklore element. Of course this has been incorporated into its crime fiction in more ways than one. Edinburgh's ghostly gothic tones are as much a character in James Oswald and Oscar de Muriel novels than anywhere else. And just wait until you head up to Orkney. There's something endlessly ethereal about these islands and this more than comes across via fiction set there.
Oh, but let's not forget deadly Dundee under the hand of Russel D McLean or the often theatrical Galloway of Catriona McPherson. Scotland is such a diverse country, small but perfectly formed and some of the most stunning landscape in the world. And the home to some of the most memorable characters in crime fiction.
I'll be writing about these and more in future posts. How writers showcase their part of Scotland on the map and how Scottish greats have come to the fore with their writing no matter where they write about – Val McDermid has even invented her own city of Bradfield in England. The Scottish/English divide no more.
But let's not forget the lovely Stirling itself – home to the very festival of crime writing greatness. A city where for three days, the finest of the fine will be gathering to talk crime, murder and more. Scotland has never looked so bloody.
Scotland be brave…
Susan, TheBooktrail.com
---
Visit the booktrail for maps, travel guides and reviews for the books featuring in Bloody Scotland.
Twitter: https://twitter.com/thebooktrailer
Facebook: https://www.facebook.com/thebooktrail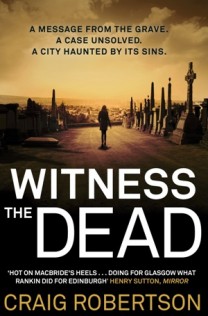 Bloody Scotland author Craig Robertson is launching his latest novel Witness the Dead in Glasgow on Tuesday July 2.
The event takes place in Waterstones in Argyle Street and kicks off at 7.00pm. Craig will be reading from the new book plus chatting to the audience and signing copies.
Witness the Dead, Craig's fourth novel, is set in Glasgow and again features police photographer Tony Winter and DS Rachel Narey. It opens in the Necropolis, the city's sprawling Victorian cemetery, where the body of a young woman is found laid out on a tomb. When a second body is found, it mirrors a series of killings in Glasgow in the early 1970s. Events then bring Winter into the life – and mind – of Scotland's most infamous killer.
Researching policing methods from the 70s led Craig to interview former head of CID Bryan McLaughlin who was a beat bobby at the time. Bryan's insight proved invaluable and he will be joining Craig at the launch to talk about patrolling the streets in the days before CCTV, DNA and computer databases.
Tickets are free and available in store.
On Thursday July 4, Craig will be in Waterstones East Kilbride along with fellow crime writer Michael J Malone, author of Blood Tears and A Taste for Malice. From 6.30 – 7.30pm, they will be talking about all things murderous.
They can write. But can they act?
As a treat for the grand finale of Bloody Scotland we were served a one-off staging of The Red-Headed League, starring Sherlock Holmes himself as the clever detective. (It was really 'only' Stuart MacBride, not the genuine Mr Holmes.) Karen Campbell was the red-head and Gordon Brown (the other Gordon Brown) was disparaging towards the other red-head hopefuls in the audience.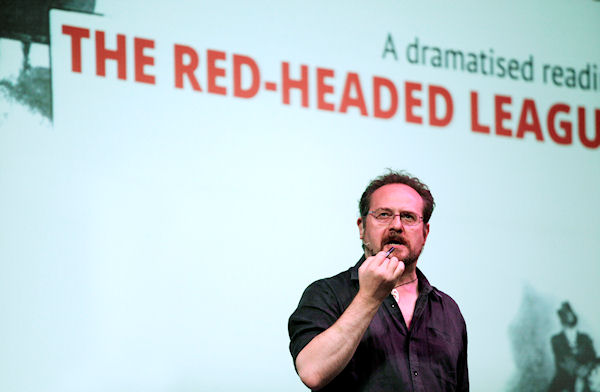 Lin Anderson was Mrs Hudson, Craig Robertson played Lestrade and Val McDermid was Mr Merryweather. Gillian Philip was the villain of the piece. She villained most convincingly.
Dr Watson had the biggest role and David Ashton Doctor Watsoned so well I wasn't surprised to find he's an actor.
Why is it that watching the 'wrong' people do something, we like it even better?
Once the red-headed jollities had been dealt with, it was awards time.
First out was the Worth the Wait short story competition. Out of 232 entries and 19 shortlisted stories, the winner was Sarah Reynolds who got some very old and rather valuable Glengoyne whisky for her troubles, amongst other prizes. Very good story. In fact, most of them were unexpectedly excellent.
The very first Scottish Crime Book of the Year 2012 came next, and last. Jenny Brown introduced Sheena McDonald who introduced William McIlvanney who told us that Charles Cumming was the winner with A Foreign Country. A large cheque changed hands and Charles made a suitably gracious speech.
And then we all went home.