How did we do?
If you came to Bloody Scotland, we'd really appreciate your feedback!



Thank you!
They can write. But can they act?
As a treat for the grand finale of Bloody Scotland we were served a one-off staging of The Red-Headed League, starring Sherlock Holmes himself as the clever detective. (It was really 'only' Stuart MacBride, not the genuine Mr Holmes.) Karen Campbell was the red-head and Gordon Brown (the other Gordon Brown) was disparaging towards the other red-head hopefuls in the audience.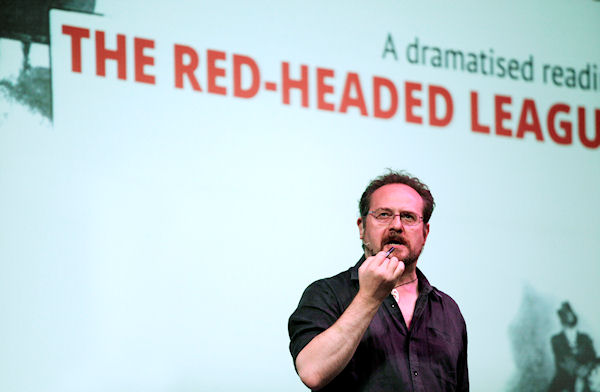 Lin Anderson was Mrs Hudson, Craig Robertson played Lestrade and Val McDermid was Mr Merryweather. Gillian Philip was the villain of the piece. She villained most convincingly.
Dr Watson had the biggest role and David Ashton Doctor Watsoned so well I wasn't surprised to find he's an actor.
Why is it that watching the 'wrong' people do something, we like it even better?
Once the red-headed jollities had been dealt with, it was awards time.
First out was the Worth the Wait short story competition. Out of 232 entries and 19 shortlisted stories, the winner was Sarah Reynolds who got some very old and rather valuable Glengoyne whisky for her troubles, amongst other prizes. Very good story. In fact, most of them were unexpectedly excellent.
The very first Scottish Crime Book of the Year 2012 came next, and last. Jenny Brown introduced Sheena McDonald who introduced William McIlvanney who told us that Charles Cumming was the winner with A Foreign Country. A large cheque changed hands and Charles made a suitably gracious speech.
And then we all went home.
They do 'like a good murder.' You wouldn't know these 'children's authors' were children's authors if it didn't say so in the programme. So, holding that thought, it might have been better not to mention it. Just as people used to feel that Agatha Christie looked like a nice old lady, the same goes for Helen FitzGerald, Cathy MacPhail and Gillian Philip.
Oops, not nice and old. Nice. And beautiful. And clearly writing some hard-hitting novels, featuring dead bodies, immigration politics, selling body parts and murderous heroines. All typical children's issues.
Aussie writer Helen FitzGerald talked about seeing dead bodies, and she has a past featuring Barlinnie prison (from the right side, I believe). She read from her new YA novel Deviant, which sounds anything but childish. It's more a perfectly normal story, which just happens to have a main character aged sixteen. (By normal I mean something adults might read.)
Catherine MacPhail read from her next children's book Mosi's War, where a young boy witnesses someone falling of a roof. It sounds like the plot will look at immigration issues seen from two different sides, and I don't think she said, but I would guess it's set in Glasgow.
Gillian Philip read an excerpt from The Opposite of Amber. One of those early and almost invisible parts of the novel, because of what happens later. But she wanted to show that her main character, Ruby, is no angel, and we heard how she was contemplating killing someone and thinking how that would have changed everything that went on to happen afterwards.
All three writers agreed that you don't necessarily tone down the contents of young (crime) novels. You just happen to have a younger protagonist. You can swear, but you can also get past using bad language if you want. And you might need to do without the sex. The main thing to remember is to end with some level of hope. Not happily, but with hope.
Sylvester Stallone is so out. So is using a word like fascist. Nothing dates you like the words you use. Cathy checks out how children talk in her school visits, and Helen pays her teenage daughter to road-test her writing for inaccuracies on being young today.
As Gillian said, if people only knew how adult YA books are…
The worst thing you could do to Cathy is put her books in the Scottish section in bookshops. Next to Nessie.
She'll probably have to murder you in a future book if you slip up.
Post by Ann Giles
That's 'real' literature for you. The kind that wins – or at least is permitted to sit on the shortlist of – the Man Booker award.
You could be forgiven for thinking the Edinburgh International Book Festival had taken over Bloody Scotland, when its director Nick Barley hosted The BIG Debate: Would you kill to win the Man Bloody Booker?
They said a lot of things in that debate, but never really got round to discussing actually killing for the award. That's either because they are such lovely people, those crime writers, or because the prize isn't worth it.
Willy Maley and Stuart Kelly were there to speak up for the purity of the Man Booker, while Ian Rankin and Peter James had the task of putting forward the reasons why crime fiction should be allowed to win the Man Booker as well as the next literary novel.
We started out with a minority of three in the audience, supporting the current rules for no crime on the shortlist. Once Willy and Stuart had done their jobs, even Ian and Peter were beginning to wobble. A quick poll at the end gave us twenty supporters for no crime writers for the Man Booker, meaning the against side had done the better job and were declared winners.
But it's worth remembering that a good many crime novels have won the award already. It's just that no one labelled them as crime. It helps if the title contains the word snow. It's more literary, snow.
When Nick asked the panel who they think should win a crime based Man Booker they listed authors such as Ruth Rendell, John le Carré and Sophie Hannah. All good suggestions.
Post by Ann Giles
Thank god for volunteers! It was the woman in the audience willing to dress up in one of those white forensics overall things, who made the talk by Lin Anderson and her techie pal Andy Rolph so spectacular. She subjected herself to the overheating you suffer in the outfit which looks so 'cool' on television.
Despite – or because of? – Lin's cheerful assertion of 'believe me, this is going to be fun,' our volunteer allowed Lin and Andy to cover her from top to toe, with face mask and sock type boots and double gloves. The double gloves are most important. Cook-in-the-bag got a mention, so perhaps this is how dinner feels as it's being got ready for the pan.
She even did a catwalk type whirl round the room, before getting permission to take it all off again. Although first she rather optimistically asked where the body was. 'Who do you want us to murder?' asked Lin chirpily.
Andy's company R2S provides forensic evidence for both prosecution and defense in many parts of the country. He showed us how they computerise it and how every little thing gets added to a sort of crime map of the scene of crime, and how this can be shared by all who work on a case. We spent virtual time in a telephone booth, with drugs in it.
We watched a body map, which helps the members of a jury to look at injuries without having to see the real body in question. The services of R2S have even become a new word; to R2S.
Lin began the session by reading from her new book, Picture Her Dead, and blast the woman for stopping just as her character tried to… We want to know where the smell was coming from. I mean, we know that, or we can guess, but we want to know more.
It wasn't an obvious thing for Lin to pick a forensic scientist as her 'detective' when she began writing. It just happened. She knew someone who did this sort of thing, so went for it, without thinking it through. Serendipitous is how Lin thinks of it now.
Yes, someone needs to be enthusiastic about the gory bits, don't they?
Post by Ann Giles
Drop the incomprehensible jokes, and the cultural references that you don't know what they mean, and a translation is still a translation and can win awards. That's what Val McDermid found with her French translator, and it's a fair bet that's not a one-off.
Translations were just one thing up for discussion when Barry Forshaw talked to Val and to Yrsa Sigurðardóttir and editor Jade Chandler first thing on Sunday morning. During the warm-up beforehand they mentioned kippers for breakfast and missing the Archers, but for the real event it was almost all Nordic crime, with Barry showing off his long-rehearsed pronunciation of those impossible names. He did well with Yrsa, but still got her to say Sigurðardóttir so we could all tell that he still has some way to go.
Scotland has a communality with the Nordic countries, sharing similar values. That's why the two areas feel they belong together.
All participants in The Next Big Thing were of the opinion that one reason Nordic crime has done so well is that so far we've only had the cream of the crop. Now there is a trickle of more mediocre crime novels coming through, proving that just as with some US novels, not everything travels successfully.
The UK has become more European, and the US feels much more foreign than we expect it to be. Val gets mobbed in Germany, but there isn't much German crime coming here. The general piece of advice they have for publishers looking to translate foreign crime novels is to begin with an author's first, and not start mid-series as has been known to happen.
Barry kept promising to tell us who he thinks will be the next big thing, and I don't know if it's a pronunciation issue, but it sounded like it's Higashoo. Which is nice, if somewhat incomprehensible. But that's coming from the man who discovered Bloody Stirling only this weekend…
If you are a Russian crime writer you don't want president Putin to like your books. On the other hand, you don't want him not to like them, either.
It's tricky, this book stuff. Maybe the next big thing will be the Manx Murder. Channel Isles Crime. Or simply something set on one of the many  Scottish islands that seem so little known.
Post by Ann Giles
Crime writers in the observatory…
So you'll be wondering what a collective of crime writers get up to on conferences when the crowds dissipate? You're not? I'll tell you anyway. We go gazing at the stars. The shiny-in-the-sky-peeping-behind-clouds kinda stars. Not Katie Price.
We were sat sitting, after dinner on Saturday night, at the bar: Lin Anderson, Gillian Philip, Cathy MacPhail and me (Michael J. Malone) when we were approached by a small dapper man.
"Want to see my observatory?" he asked.
"Makes a change from puppies," said Gillian.
"Or kittens," said Lin.
"Or tattoos," said Cathy. "Oops, did I say that out loud?"
"At least tell me your name," says I. "I don't go to a strange man's observatory without at least knowing their name."
"Bert", says he. "And here at the Stirling Highland Hotel we have an actual, real-life observatory."
And before you know it, we were whisked off down a long, white corridor and up a steep, white staircase climbing up inside a dark tower.
"Ooh," says Lin Anderson. "I could fair murder someone up here."
"Me bagsies that," says Gillian.
"Where's my wine glass?" says Cathy.
***
So, imagine an igloo. Except there's no snow. And it's made of wood. And there's a fricking HUGE metal tube thing stretched across the ceiling. Those in the know – our Bert – call it a telescope.
As Bert describes how the telescope works Lin and Gillian are getting more and more excited. Lin is wondering when Doctor Who will appear and Gillian is staring at this giant metal tube thing making squealing noises that Meg Ryan would be envious of.
Bert is visibly growing before our eyes. His chest is about to burst with pride. And we haven't even looked through the thing yet.
Sadly, the cloud cover is too thick – the moon has got its cloak on, so to speak – but our Bert has an alternative. The Wallace Tower is lit up in the distance like a beacon and the telescope brings it so close we can see every brick. Gillian's squeals are so high pitched now that only dogs can hear it. Albeit, every dog within a twenty mile radius.
***
Back in the bar – pulses calmed, breathing normal, the conversation returns to more mundane matters.
"Can I borrow a red wig from anyone for tomorrow?" asks Cathy.
Post by Michael Malone
Photos by Iain McLean
"The stakes are high …"
The organisers invited pitches from aspiring crime writers. Describe your novel in 100 words was their task and they flooded in from all corners of the UK. Lin Anderson and Jenny Brown were given the difficult task of sifting through them to find the final 7 talented (and brave) souls who would get the opporchancity to pitch their novels to a panel comprised of commissioning editors and a literary agent.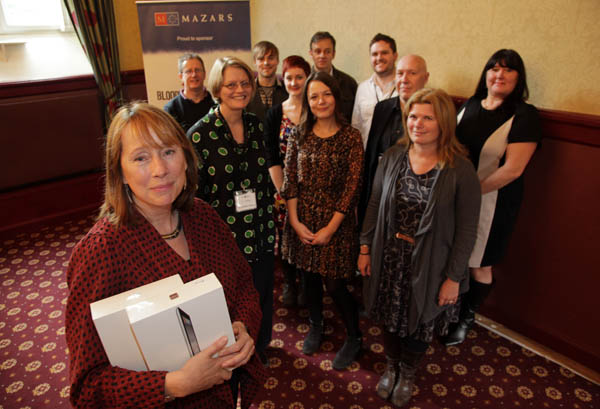 The panel of nippy sweeties:
Liz Small (Waverley Books), Rachel Rayner (Transworld Books) Maxine Hitchcock (Simon & Schuster) and Jenny Brown (Chair of Bloody Scotland and Literary Agent)
The Pitchers:
Colin Vaines, Sharon Birch, Joe Knobbs, Alan Gillespie, Kirsty Logan, Mark Leggatt, Calum Macleod
Here's how it unfolded:
Colin Vaines – a headless corpse in Loch Ness – the home of Aleister Crowley
The panel:  well chosen topic – try to get over possible comical associations  – maintain energy and pace at the beginning – a clear sense of influence and direction for your audience – universal appeal of Loch Ness – sounds well developed
Sharon Birch – Who's Body is it Anyway? Remote cottage in the highlands – body found of someone who was thought to have been cremated 3 years earlier
The panel: title misleading, could mean anything – focus on the aspect of secrets – pitcher introduced great credentials and authenticity which is appealing to a publisher. Potential for a series is also attractive, as is location. Mistaken identity always a good start – as are dark secrets – we all identify with this. Crime is an interactive genre – we are all armchair detectives. Comparative references to Kate Atkinson worked.
Joseph Knobbs – Death Bed Conversion – serial killer and an unfound 7th grave – was an innocent man convicted – was the real killer never found – did the 7th victim survive – killer, victim and detective collide
The panel: powerful pitch – confident approach – moors connection will resonate with public – great twist subverts our expectations – make maverick cop empathic
Alan Gillespie – Interview with a Murderous Lesbian Cannibal – in Leglock Prison – a character of deep flaws – bizarre sexual negotiations – silence of the lambs with a Scottish accent
The panel: loved the pitch – good introduction – brought in strong comparisons – not sure if book is a comedy – hard to pull off comedy with horrific elements – extremely strong characters – would have to see how it is developed – lots of fun – female serial killer is underdone – tricky title, but eye-grabbing.
Kirsty Logan – Little Dead Boys – Angela Carter meets Lousie Welsh – gothic novel
The panel: great credential from the author – great title – familiar but different – find something different with wide appeal – past and present – urban legends – liked the atmosphere.
Mark Leggett – Closure – conspiracy – angst-ridden a driven by morality – journalist wife is murdered – chasing the murderer, his son is at increased risk – drug cartels – Mossad – a chase through Europe and North Africa
The panel:  intrigued to know how character will overcome the odds stacked up against him – will need tenacity to ensure character isn't overwhelmed – felt it might have too much going on – two panellist loved it – wanted to know character was well-rounded enough – feels there is a good market for this kind of book – emotional heart is young son being in danger – achieves empathy.
Calum Macleod– the Song of Alan Breck – no one ever named a film called "Lowlander" – set after 1745 rebellion – character flees to Paris – clues that his father might be a traitor to the cause
The panel: intriguing premise – a real family secret – huge appeal – historic novel needs convincing details – stronger title perhaps?
And the winners are … JOE KNOBBS and SHARON BIRCH
Post by Michael Malone
Photos by Iain McLean
Some early morning evil never goes amiss, and what better way to start the day than with Denise Mina and Peter James comparing evil with Alan Riach and each other?
After brief introductions from Alan on who they are (and who needs that?), they both read from their books. Peter said he's famous for short chapters, so would read chapter one from his new book, which took all of ten seconds. On that basis Denise allowed him another 19 chapters.
Denise checked whether there were any children in the audience, but although the coast appeared to be clear she still stopped reading as she got to the orgy, which was most disappointing.
They discussed where they draw the line, because everyone is different, and also investigated what counts as rape. The law says one thing, but morally you might not agree.
Peter has experience of Broadmoor, but only as a visitor, and on inspection it seems as if certain tabloids might actually count as more evil than the worst psychopaths. Evil is an unwillingness to understand.
Asked whether it's important for good to conquer evil, it appears this is not always necessary, and many readers prefer realism to happiness. Sock puppets turned up once more, and we found out that authors write their own blurbs, telling the world how excellent they are, much in same vein as the infamous puppets.
Not knowing how a book will end is something Denise experiences every time. Peter knows where he's going to end up, but also knows he will change his mind.
Post by Ann Giles
It could have been chair Peter Guttridge who Karin Fossum had in mind, but it was actually one of her characters. Peter looked pretty dizzy, however, and said repeatedly during the Deadlier Than The Male event that Karin was freaking him out. She is scary, in a nicely Nordic way. Doesn't beat about the bush like the British do.
Karin and Val McDermid were talking to Peter about women in crime. Problems in writing are there to be solved, and  if it takes her a year, Karin will eventually see that something needs to be removed. Asked if she feels the urge to improve on old books Val said you have to stand for your early writing. Some of it will be good, some of it bad.
The sign for Karin to stop is when what she has taken out goes back in again. As well as crime, Karin writes poetry and what all her writing has in common is death. Her reply to whether she knows what she is writing after her next novel was 'yes, I do.' This short and succinct piece of information was met by laughter by the audience, but that's what we are like, over there.
Another tradition is when Norwegians go to their little cottages for Easter, they take crime novels (paperbacks only) to read. Presumably to avoid killing each other during cramped conditions. Crime gets more exciting in the dark.
Val avoids writing two books in a row about the same characters, or she will get bored. But when she moved one character to America to get rid of them, new ideas immediately sprang up and she wanted to move her back here again, except as her agent pointed out, there was a problem with the dog. The dog has now been adopted by another crime writer, so it can stay in the US.
Both Karin and Val have fans who know best. One of Val's was eager to make her aware that between the hardback and the paperback, she might want to correct that right turn by the lights where you can no longer make right turns…
Northanger Abbey in modern clothes is next on Val's agenda, and she's not averse to another children's book as long as there are no more children's events. Anything but that!
Post by Ann Giles