Bloody Scotland Football Match – False 909 Podcast
22nd September, 2014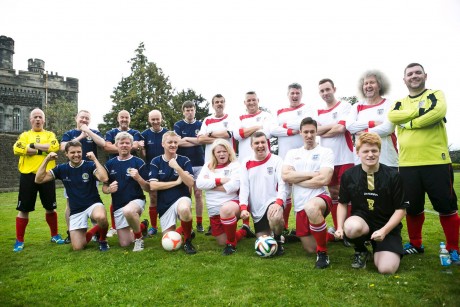 On Saturday afternoon, Scottish and English crime writers clashed in football match as part of Bloody Scotland's efforts to foster good international relations between crime writers, or something… The five-a-side match took place at Cowanes Bowling Green in Stirling, within sight of Stirling Castle, and a graveyard.
With team line-ups including Ian Rankin, Mark Billingham, Doug Johnstone, Craig Robertson, Luca Veste, and Christopher Brookmyre, and with Alex Gray and Caro Ramsay standing in as 'sports medics' on the sidelines, we counted ourselves lucky that anyone came out the other side alive.
If you missed the match, or even if you were there, we'd recommend you listen to the match commentary provided by False 909 football podcast.
We won't give away the score (like match of the day) but if you want to know the result, you only need look at twitter…
Thanks to Al Innes and Peter MacKay from the False 909 football podcast for coming along and recording this brilliant podcast.
Bloody Scotland Crime Writers Football Match: Scotland vs England by False909 on Mixcloud