5 things to know about Bloody Scotland's Crime Writing Masterclass
5th August, 2014
So You Want to be a Crime Writer?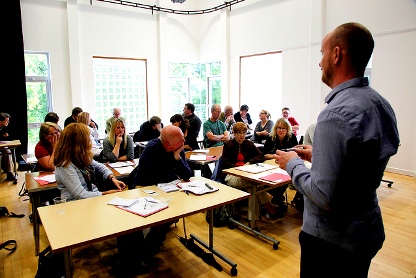 If you aspire to be the next Ian Rankin or Denise Mina, the Bloody Scotland Crime Writing Masterclass is a great way to find new insight and inspiration, pick up brilliant advice, network with other aspiring crime writers and challenge yourself in a relaxed and sociable atmosphere.
As part of our programme to encourage and develop the next generation of crime writers and nurture new talent,  we partner with University of Stirling's Creative Writing department to provide a top quality day of creative writing workshops with advice from leading experts.
Here are 5 things to know about Bloody Scotland's Crime Writing Masterclass
A 2 Hour Masterclass with Christopher Brookmyre – This alone is worth the ticket price, one of Scotland's leading crime writers will give a fascinating masterclass on crime writing advice and techniques. Christopher is well-known as an engaging, entertaining and thought-provoking speaker. Inspiration guaranteed.
Workshops that work – Our fantastic workshop leaders Liam Murray Bell and Helen Sedgwick, will lead genuinely useful workshops on topics that matter to aspiring writers. Helen's session on writing a synopsis for your novel will equip you with an understanding of the importance of a great synopsis and the skills to write one. Liam's session on crafting opening lines will help with difficult 'blank-page moments' and the technique of grabbing your readers' attention. Both crucial workshops for getting your work noticed.
The Publishing Trends Panel – Rarely do writers get to hear straight from the horse's mouth what is happening in the publishing world. Crime publisher Sara Hunt, leading crime fiction editor Jade Chandler and crime author Craig Robertson will discuss trends in the world of crime fiction publishing and how they relate to up and coming crime writers. Invaluable for aspiring writers at any stage.
Serene surroundings – Macrobert is based on University of Stirling's green and leafy campus. In light and airy rooms on the edge of a tree-lined lake, this is a picturesque location in which to find peaceful inspiration. Lunch and refreshments are included on site, leaving you free to concentrate on your writing for the day.
Your Bloody Scotland discount – 10% off all Bloody Scotland tickets when you book a place on the masterclass day. So you can follow up your day of stimulating learning by listening to the best in the business and socialising with crime readers and writers in the festival bar.
Remember that we limit places to ensure a high quality experience for all participants – book now to avoid disappointment.
Click here for more information and booking for the Masterclass.