Young and Bloody Scotland with the Scottish Arts Club
15th May, 2015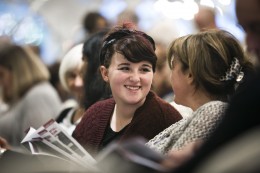 Are you interested in creative writing? Aged between 16 and 23? Would you like to learn the secrets to writing crime novels and stories from some of the brightest and best crime authors around?
Young and Bloody Scotland, our new young people's crime writing masterclass developed in partnership with the Scottish Arts Club is for you – two days of inspiring and creativity-boosting workshops and talks with some of Scotland's leading crime authors. Presented in partnership with the Scottish Arts Club Charitable Trust at their club in Rutland Square, Edinburgh.
You will leave equipped with a host of new skills and knowledge, from plotting and characters to police procedurals and historical fiction. You will also get the opportunity to practise pitching a novel idea to real publishers! In preparation for the workshop, participants are asked to think of a story concept that they can work on over the course.
Laura Marney This packed and inspiring 2 day master class in the art of writing crime fiction will be led by one of Scotland's most engaging writing tutors, author Laura Marney. Laura teaches creative writing at University of Glasgow and will be leading the master class and coaching young writers through the 2 days. Lunch and refreshments are included.
Visit www.bloodyscotland.com/young/ for full details.