Noir at the Bar Glasgow – Thursday 11 June 7pm
1st June, 2015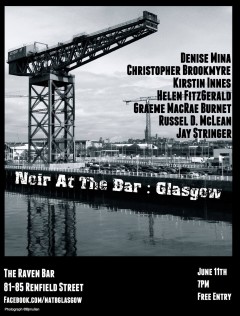 Noir at the Bar Glasgow is the brainchild of crime writers Russel D McLean (Cry Uncle) and Jay Stringer (Ways to Die in Glasgow). Based on a format that has popped up in a number of cities across the US, Noir at the Bar will be taking place at the Raven bar on Renfield Street in Glasgow on 11 June at 7pm. Entry is free and the first line-up includes Denise Mina (The Red Road), Christopher Brookmyre (Dead Girl Walking), Helen Fitzgerald (The Exit), Kirstin Innes (Fishnet) and Graeme MacRae Burnet (The Disappearance of Adele Bedeau).
The co-founders met in a bar (appropriately enough) to explain more about the event, and why they decided to bring Noir at the Bar to Glasgow:
JS: So, this here Noir at the Bar thing, what's that all about, then?
RDM: If that isn't a leading question, I don't know what is. The clue – as so many people have cottoned onto over the last few weeks since we announced it – is in the name. It's a mix of dark fiction readings and hijinks at a bar. Which seems to me to be the perfect mix, wouldn't you agree? It's a pity we can't take full credit for the idea, of course.
JS: I guess we should admit to totally stealing the idea. Noir at the Bar started in Philadelphia, in 2008, by Peter Rosovsky. It was taken to St. Louis by two of my favourite writers, Jedidiah Ayres and Scott Phillips, and has since spread across the U.S. You appeared at one in New York, right?
RDM: Yes, I appeared in New York where N@TB (as it's known) has been held at Shade Bar for years, now. That was the catalyst for me thinking that the idea could work. I know we'd both been tossing around the idea of bringing N@TB to the UK for a while, but I could never quite get it together, even when I was working as an events organiser in a bookshop.
JS: I was in the same boat. It felt like a nice idea, but I didn't know how to actually get it started. I think I needed to go over to the States and experience one, to really see how fun they are, before I could understand what we could bring to it.
RDM: The NYC event was a great mix of authors – you had traditional readings of short stories and novel excerpts as well as a few surprises including what turned into a bizarre fictional confessional from Josh Bazell (author of Beat the Reaper). The authors were a complimentary assortment of better known names and up-and-comers, which I liked. A very equal atmosphere and informal enough that it was like attending an intimate gig featuring brief sets by your favourite bands, except that it was all spoken word. There were none of the formal trappings of traditional literary events, which was enjoyable, and made me think we could really do this in the UK. I think you had a similar experience in Los Angeles?
JS: Yeah, I appeared at a one-off N@TB in Long Beach, timed to coincide with Bouchercon last year. What I loved was the way the event makes room for each author to completely be themselves, and bring their own flavour to the microphone. At the Long Beach event there was a mix of straight-up crime stories, memoirs, hardboiled detectives, grisly noir tales, and comedy pieces. The audience really got to see something unique about each reader, and I started to get very excited at the prospect of showing off some of the different voices we have in and around Glasgow.
RDM: Absolutely. When we were deciding on the lineup, I figured we needed some headliners – and boy, did we get some good ones here – but we needed to mix that up with some unusual names. If we want to mark ourselves out, we need to give people something they haven't heard before, so once we somehow persuaded the hugely talented likes of Brookmyre, Mina and Fitzgerald to get involved, it was important to put some newer names on the bill. For me, I knew I wanted to get someone like MacRae Burnet involved when I read his transgressive take on crime fiction The Disappearance of Adele Bedau, which genuinely fooled me into thinking that it was a lost classic of French crime fiction (it's not, but its convincing enough you believe it). And if I remember correctly, it was yourself that suggested the magnificent Kirstin Innes, who is not being marketed as a crime writer, but definitely falls into the category of noir?
JS: I'm reading Fishnet right now, it's crackin'. And you're right, it's not really being called a crime novel, but it's set squarely in 'our' world, a good story that just happens to have some criminal aspects at the fringes. And, really, that's my kind of book. I think we've got a great line-up. Not only because we've got a good spread of material, but the mix of voices is good, too. And, to bring it back to where we came in, I think we've also got a great bar.
RDM: Funny you should mention that… The Raven, on Renfield Street, is a great space with a fantastic selection of food and drink. Also, their trademark is a black raven, which recalls one of the masters of dark fiction, a certain Edgar Allen Poe. We spent a long time researching venues, and we're very glad to have got this one. I'm hugely excited about this. The initial response has been great, and I hope that from this first event we can make N@TB Glasgow a regular occurrence. It should be an evening of great entertainment, and I hope that anyone who comes along will be as excited by this line-up as we are.
twitter: @noirbarGlasgow
Noir at the Bar Glasgow takes place at the Raven Bar, Renfield Street, Glasgow on Thursday 11 June at 7pm. Free entry.