Early Bird tickets Now On Sale! Don't Miss Out…
27th April, 2015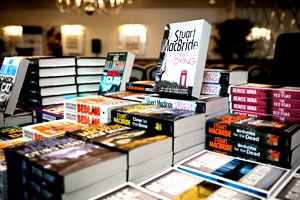 Great news for our lovely audiences – if you're planning to come back for more crime fiction fun in 2015, Early Bird booking is now open for 2015!
With this limited-time, never-to-be-repeated offer, you can buy a bundle of 5 tickets for £35, then when the festival programme is announced, we'll email you and you can choose which events you'd like to go to.
Our full line-up will be announced on June 3rd, but already tidbits of news are on the wind, with author Ann Cleeves confirmed for this year's festival. Crime, detective and thriller fans will not be disappointed with who is coming to Bloody Scotland this year.
Don't miss out! We only have a limited number of these tickets available and they are always popular.
"In our 2014 feedback survey, 72% of our festival audience said they were very likely to return in 2015."
We can't wait to welcome you back to beautiful Stirling!