Detective McLevy's Casebook
1st April, 2012
Edinburgh's real Sherlock Holmes
A brand new edition of Victorian crime short stories is being published by MSc students at Edinburgh Napier University under the Merchiston Publishing imprint.
Detective McLevy's Casebook, a vibrant collection of case studies by James McLevy, will bring these Scottish classics to a new audience.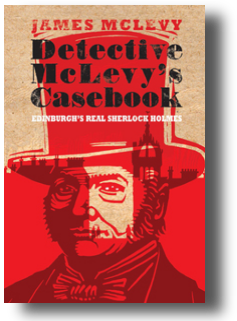 James McLevy was one of Edinburgh's first detectives. His career spanned over three decades and over 2,200 cases, in which he almost always secured a conviction. His stories are said to be the inspiration for Arthur Conan Doyle's Sherlock Holmes. At the time, McLevy's stories were as popular as those of the fictional Holmes, and they set the scene for the crime fiction that followed.
This new book will collect together a number of McLevy's best short stories, exposing Auld Reekie's Victorian underworld. The new edition features an introduction by Alanna Knight, drawing upon her expertise in Victorian crime fiction. The cover illustration is by Iain McIntosh, a well known Scottish illustrator with a distinctive style.
To find out more about the project, visit Merchiston Publishing. You can also follow the project on Twitter: @McLevyMystery and Facebook.
And what better place to find out about the origins of Scottish crime fiction than right here at Bloody Scotland? Check our events calendar for details in May.