Craig Robertson book launch
10th June, 2012
I will be breaking a bottle of Buckfast over the bow of my third novel Cold Grave  in Waterstones, Argyle Street, Glasgow on Wednesday June 13th at 6.30. The good bookly people of Waterstones have promised wine and biscuits and you can't say fairer than that.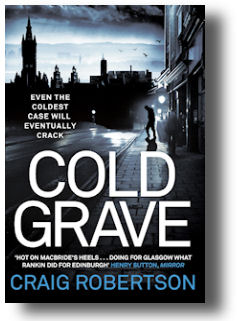 There is always a price to be paid for a free pre-theatre aperitif however and in this case it will be having to listen to me read from the new book and talk and stuff. I may also have to say some thank-yous and answer some questions. And mum, if you're reading this, please don't ask when I'm getting a proper job.
So what is Cold Grave all about, I hear you ask. Here's what the people at Simon & Schuster say, and they should know:
Even the coldest case will eventually crack. November 1993. Scotland is in the grip of the coldest winter in living memory and the Lake of Menteith is frozen over. A young man and woman walk across the ice to the historic island of Inchmahome which lies in the middle of the lake. Only the man comes back.

In the spring, as staff prepare the abbey ruins for summer visitors, they discover the unidentifiable remains of the body of a girl, her skull violently crushed.

Twenty years later, present day. Retired detective Alan Narey is still haunted by the unsolved crime. Desperate to relieve her father's conscience DS Rachel Narey returns to the Lake of Menteith and unofficially reopens the cold case. With the help of police photographer Tony Winter, Rachel discovers that the one man her father had always suspected was the killer has recently died.

Risking her job and reputation, Narey prepares a dangerous gambit to uncover the killer's identity – little knowing who that truly is. Despite the freezing temperatures the ice cold case begins to thaw, and with it a tide of secrets long frozen in time are suddenly and shockingly unleashed.
So, to recap. Waterstones. Argyle Street. Wednesday June 13th. 6.30pm. Cold Grave. FREE WINE. FREE BISCUITS. A reading, some chat and book signings. Post launch drinks at a venue still to be decided.
The event is ticketed but free. You can get a ticket at the store or by phoning Waterstones on 0141 248 4814.
If you can't make the launch then I'll be signing books the following day on a whirlwind tour of Waterstones plus one. Here's where and when you can find me.
09.30 – Waterstones Stirling                                      
11.00 – Waterstones East Kilbride                         
12.00 – Waterstones Newton Mearns
14.00 – Waterstones Braehead
15.30 – The Hyndland Bookshop