Medieval Murder at Stirling Castle
1st September, 2014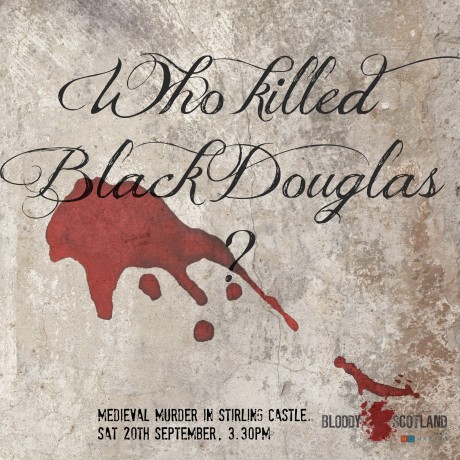 We're pleased to finally announce the details of our Medieval Murder at the Castle event, in association with Historic Scotland and Return To Scene.
Stirling Castle. 22 February, 1452. The body of William, Earl of Douglas, aged 27, close friend of the young King James II, lies at the foot of a tower, with 26 stab wounds in his chest. It was a murder that would start a civil war – but what really happened?
Audiences who experienced Rona Munro's critically acclaimed trilogy The James Plays at the Edinburgh International Festival this month will already be aware of the strange, intense friendship beween the Black Douglas and the boy king with the fiery birthmark. Now Bloody Scotland and forensic investigators Return To Scene invite you back to the scene of the crime – Stirling Castle – to try and solve this centuries-old murder using modern techniques.
Following a tour of the murder site itself, audience members are invited to become forensic investigators, using the very latest 3D body mapping, fingerprinting techniques and DNA technology.
The story of Black Douglas' murder has long been an inspiration to Scottish writers. As well as Munro's play James II: Day of The Innocents, this case also inspired Nigel Tranter's bestseller Black Douglas. As part of its commitment to bringing the action off the page,
Bloody Scotland, which is sponsored by Mazars, is delighted to offer audiences their own opportunity to interact with this particularly grizzly corner of Scottish history, in the magnificent, atmospheric surroundings of Stirling Castle.
The Medieval Murder in the Castle event will take place on Saturday 20 September at 3.30 PM. This event is included in admission to Stirling Castle on the day, and places are allocated on a first-come, first-served basis.
Admission to Stirling Castle is £14 (concs £11.50 and children £7.50). Free entry to Historic Scotland members.