Focus: Tartan Noir
8th July, 2013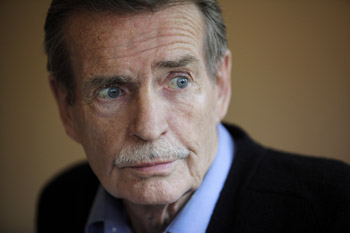 This week we're celebrating everything Tartan Noir at Bloody Scotland, which gives us quite a lot to talk about!
From our opening night, with Quintin Jardine flanked by Bloody Scotland founders Lin Anderson and Alex Gray spanning right until Sunday evening where we'll be treated to the Godfather of Tartan Noir, William McIlvanney talking about the recently republished Laidlaw.
We have a number of Bloody Scotland favourites returning again this year to represent their brand of Scottish crime fiction, like Chris Brookmyre, Denise Mina, Stuart MacBride, Aline Templeton and Craig Robertson. It's great to have them back again in 2013!
This year we're excited to branch out into the world of crime within young person's fiction. Our Breaking the Boundary event will welcome Sophie McKenzie andLinda Strachan to the Academy Suite to talk about their foray into teen crime fiction. The perfect event for any young fiction fan – or for those of us who are simply young at heart.
Want to get to know the next generation of Scottish crime writers? Then you won't want to miss our Fresh Blood event with Matt Bendoris, Lisa Ballantyne andMalcolm Mackay. All three have recently published their debut novels – and all three have been gaining rave reviews! Catch them in the intimate surroundings of The Stirling Highland Hotel while you can! More information on the event here.
Adding an extra level of manliness to the proceedings, we have our Men on a Mission – Doug Johnstone,Gordon Brown and Gordon Ferris – getting together to discuss the dark characters that lurk within their fiction. Is Scotland a nation filled with dark, brooding menfolk? You'll have to find out more at their event…click here for more information.
And finally, how can we have a Scottish focus without paying homage to Robert Louis Stevenson? Alanna Knight and David Ashton will examine the duality and darkness within his fiction and look at his persona as 'The Split Detective'.  A must-see event for any fans of Scottish crime. (And that means you.) Click here for more information.