Book giveaway!
14th August, 2013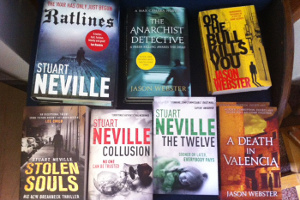 We have a criminally good selection of books to giveaway by 
Stuart Neville
 and
Jason Webster
 including:
Stuart Neville
– Ratlines (signed by the author!)
– Stolen Souls
– Collusion
– The Twelve

Jason Webster

-The Anarchist Detective (signed by the author!)
– A Death in Valencia
– Or the Bull Kills YouWhile we're at it, we'll also throw in tickets to Masters of the Dark and Foreign Bodies so that you can see the authors read from their books live at Bloody Scotland. Wow!
We have two prize bundles to giveaway to a lucky individual. Just email us telling us the top 5 events that you're excited about at this year's festival and why you should win this great prize!Email your entry to info@bloodyscotland.com.
Sorry, but due to the size of this wonderful book bundle prize, this competition is only open to entrants living in the UK mainland.
The deadline for entries is midnight on Friday 23 August.